Our EDI, eCommerce connections, and integrations are like the best housewares: thoughtfully designed.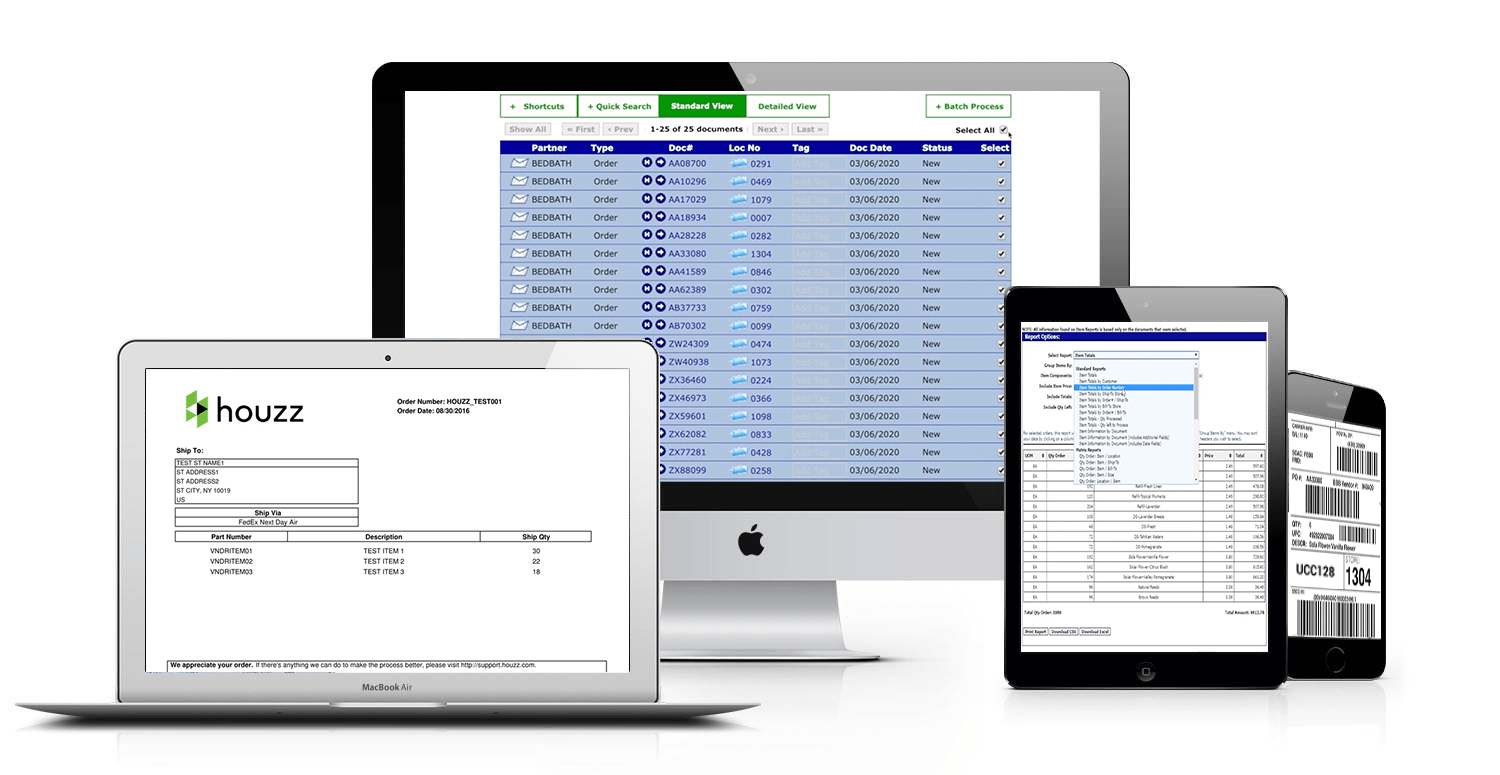 1
Bulk Processing of Orders
2
Retailer-Branded Packing Slips
3
Reports with Valuable Data
4
Retailer-Compliant GS1-128 Labels
ARE YOU A HOUSEWARES COMPANY WITH EDI AND ECOMMERCE CHALLENGES?
LET'S TALK.
EDI Compliance
Compliance is critical to trading partner relationships—our software and our people ensure you maintain it. Double-validation checks, automation of high touch tasks, and constant updates to retailer mapping prevent costly chargebacks.
eCommerce Connections
Online channels are exploding and we make it easy to process these orders the same way as EDI transactions. Automate the transfer of information to online marketplaces, connect directly to shipping providers, and track inventory easily.
System Integrations
Integrate the system you use to run your business with Lingo to create efficiency and increase automation. Whether it's an ERP, Accounting and Inventory software, WMS, or a 3PL, we make the flow of information seamless.
Order processing is a challenge. Here's how we make it easier.
Dutch Creative Brands
Order Processing Adapts as Channels Grow
Dutch Creative Brands USA—known for the Vacu Vin Wine Saver—is a longtime eZCom client. During our time working with the company, we have helped them adapt to the changing retail landscape and an ever-increasing number of sales channels.
A mug that somehow stays upright is made by a company that keeps moving forward. This is the story of Mighty Mug and the challenges it conquered, from initial sales and production to managing EDI transactions and the evolving retail landscape.
If you sell products to major trading partners, you need to identify the contents of cartons and pallets by using GS1-128 labels. These labels have zones with specific information—in text or barcode format—that retailers rely on to update inventory levels and gain visibility into their supply chain. Expect each retailer to have their own set of specific requirements for GS1-128 labels that you must meet to remain compliant. Your GS1-128 labels will also include a Company Prefix that identifies your organization—these are purchased from GS1 US, a non-profit organization that manages and assigns them. When you buy a Prefix, consider the number of UPCs you expect to need for your product line—a shorter one is more expensive because it allows you to generate more UPCs.
Use Web-Based Printing
For many companies, the easiest, most efficient solution for labels is web-based printing. Lingo will create a PDF version of your labels that you can print from any location or route directly to your warehouse.
Order Labels from Us
We can print your labels. Simply submit a label request in Lingo—select the ASN and choose "Order Labels." Answer a few simple questions so we know exactly what you need, and we'll ship them to you through UPS, FedEx, or the USPS.